The work group established for the preparation of Porto Santo's bid for Biosphere Reserve, GT-PSRB, with representatives from the Porto Santo Municipal Council (CMPS), Regional Directorate for Public Administration of Porto Santo (DRAPS), Porto Santo Folklore Group Association (AGFPS), Regional Office for the Environment and Natural Resources (SRA), Forests and Nature Conservation Institute (IFCN IP-RAM) and Regional Energy and Environment Agency of the Autonomous Region of Madeira (AREAM), met several times throughout the process and contributed, in a decisive way, towards the preparation of this application.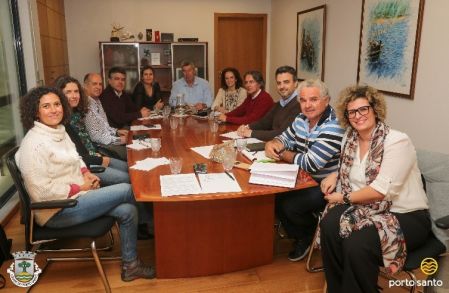 From January to February 2018, various participatory sessions were held with representatives from various sectors of the island, namely tourism, education, transport, culture, religion and traditions, in which 50 people actively participated. They learned about the concept of a Biosphere Reserve and contributed with suggestions which enabled the work group to evaluate the reference situation and define the starting point for this application. Meetings were held for presentation and analysis of the zonation as well as other relevant aspects regarding the management of the Reserve, between January and April 2018, prior to the first presentation and public consultation of the application form, between 12th April and 2nd May 2018.
Information Sessions
Clarification Sessions
Participatory Sessions
The involvement and capacity of the community of the Biosphere Reserve of the Island of Porto Santo is fundamental for the fulfilment of the objectives defined in the scope of its management, as well as for the development of a sense of belonging to the Biosphere Reserve.