As an island territory with sensitive natural systems and a fragile economy, Porto Santo is highly vulnerable to climate change, constituting a fundamental theme for the sustainable development of the Reserve.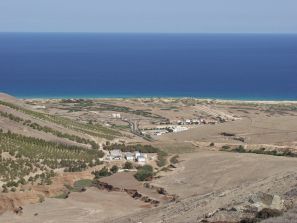 Implementing measures to mitigate climate change by reducing the emissions of greenhouse gases of anthropogenic origin, in particular by reducing the use of fossil energy sources in the transportation sector, in the production of electricity, in buildings and public infrastructures, as well as adaptation, to mitigate the effects of climate change on the population, infrastructure, natural and built heritage and economic activities are crucial guidelines for the management of the Biosphere Reserve of the Island of Porto Santo.
Climate change is another threat to consider. It may contribute to changes in habitats and ecosystems of key species, loss of biodiversity, and increasing extreme events (droughts, fires, soil loss, others), fomenting desertification and soil barrenness.
Mitigation of the climate change phenomenon and the strengthening of adaptation and mitigation measures, in human and property values, are the goals of the Action Plan, which is recommended in the context of the management of the Reserve and included in the strategic priority of intervention relative to 'Climate change'.