And everything started with its geological formation. Porto Santo grew as an underwater shield-volcano between the Early Miocene and the Middle Miocene (18Ma - 13.5Ma), with flows of basalts, hyaloclastites and palagonites, intercalated with conglomerates and tuffite lenticules, as well as fossiliferous calcareous formations of the Miocene epoch. The last eruptions took place 10.2Ma ago. Subsequent volcanic activity is only represented by basic phyllonian rocks, from approximately 8.3Ma, and correlative extrusions have not been preserved. The most recent formations correspond to sedimentary deposits from the Quaternary period, such as silty clay paleosols, limestone crusts, calcarenite aeolianites, beach and river deposits and the like. Of these, the aeolianites in the central-west region of the island, which cover about 1/3 of the surface, are worth highlighting.
Long, long ago, the first migration arrived on the island from the nearest continents, as well as from neighbouring islands and islets, swept by sea winds and currents, generally transported by birds and insects. In a first phase, the island was colonised by pioneer species of lichens and bryophytes. The development of pioneer communities created conditions for the land to host more complex plant communities, vascular plants, some spore producers, others seeds and flowers, as well as invertebrate and vertebrate animals. And since then and for millions of years, evolution has continued.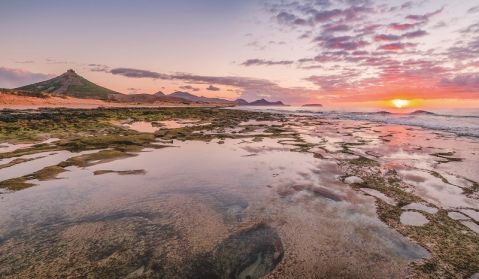 Characteristic land, coastal and marine ecosystems of the Macaronesian Biogeographic Region can be found on the Island of Porto Santo. The flora and fauna of the forests which were predominant in Europe during the Tertiary Period are noteworthy. In the coastal and marine environment, the presence of fossils which are witnesses to a reef period, which was also a precursor of dune formation, should be highlighted as well.
Terrestrial biodiversity is distributed over several ecosystems, from sea level to the zones of higher altitude, on the island and the islets, from the most natural environments to the humanised zones including agroforestry systems with typical crocheted walls, and paired stone walls, terraces or fields, irrigation canals as well as torrential correction work and reservoirs. In this biological diversity, 396 endemic taxa (310 species, 84 subspecies and two varieties) can be identified, the equivalent of 24% of the total, representing a high level of endemic species.
In relation to the biological diversity of the marine environment, there are 453 taxa identified, with eight taxa endemic to Macaronesia.